How It Works
Three Steps to a No-Obligation Offer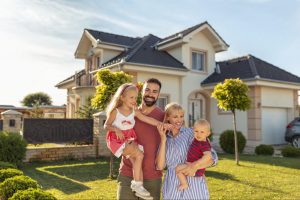 At UThrive Asset Development, our goal is to help you sell your house in the simplest and most affordable way possible. So when you partner with us, you won't pay commissions, won't need to pass a prepurchase inspection, and won't need to make any repairs before you can sell.
We buy houses in any condition, so no matter what your house looks like, how old it is, or how much work it might need, we can make you an offer. And if you want to sell your house fast, we can make that happen too. If you need to sell quickly, we can close in a matter of days, but if you need some time, we can be flexible.
Our streamlined buying process involves just three straightforward steps. Here's how it works.
Step 1 – Contact Us
If you're interested in selling your Tampa-area house for cash, the first thing you'll need to do is reach out to our team to request an offer. You can either call our office or fill out our brief online contact form to get started.
We'll need your contact information, the address of the home, and a few other basic details about the property you want to sell. If you're unsure about some of the property details we ask for, don't worry. We can gather the information we need later on in the process.
Keep in mind that requesting an offer in no way obligates you to sell. You are not making a commitment at this point in the process. You're simply asking for information.
Step 2 – Schedule a Walkthrough
Although we buy houses in any condition, we'll need to take a look at your house before we can make you an offer. So after we have your information, we'll work with you to schedule a convenient time to perform a brief walkthrough of your home. Think of this short tour as an inspection of sorts. But rather than having your property inspected and appraised by a third party, our team will be handling those steps in-house.
During our walkthrough, we'll assess the condition of your home and gather details that will allow us to accurately valuate your property. We'll look at the layout of your home, any improvements you've made, and what your neighborhood looks like.
Just as an appraiser needs these details to valuate your home, we need them too. Once we have the details we need, we'll perform the remainder of the research process to determine the fair market value of your house.
Step 3 – Decide on Our Cash Offer
After valuating your house, we'll put together our offer and present it for your consideration. From there, it's up to you to make a decision. Remember: You are not obligated to accept the offer we extend.
If you like the offer and agree to move forward with the sale, you can sell your house fast or sell on a slower timeline. Just let us know what you need, and we'll create a plan that works for you.
If you need to sell quickly, we can proceed with the closing process right away. Since we have the cash on hand to purchase your house outright, there's no waiting for an inspection or mortgage approval process. We'll meet at a local title office to close the deal, and when we sign the paperwork, you'll get your cash and the transaction will be complete!
If you need time to arrange your move or other details, we can close when you're ready. And if you can't move out right away, that's fine. Simply let us know what your move-out timeline looks like, and we can work with you.
Ready to get a cash offer for your Tampa house? Contact us today to get started! Requesting an offer does not obligate you to accept, but if you choose to, you can sell on a timeline that works for you!